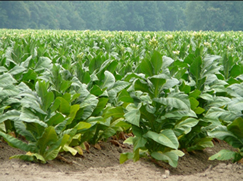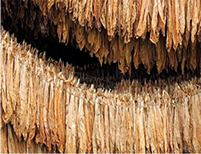 Malawi grows three types of tobacco: these are Flue Cured Virginia, Burley and Fired Cured tobaccos.

Burley

tobacco is a high-quality tobacco that has a high nicotine content and is considered to have superior flavor to many other types of tobacco.
Malawian tobacco is found in blends of nearly every cigarette smoked in industrialized nations including the popular and ubiquitous Camel and Marlboro brands. The country is one of the top 5 producers of burley tobacco in the world.
Malawi relies heavily on tobacco production and sales to support its economy. Burley leaf from Malawi makes up 6.6 percent of the worlds tobacco exports and accounts for over 50% percent of Malawi's foreign earnings.
Majority of the crop, burley, is produced by small scale farmers, whilst flue cured by commercial farmers.
The crop is grown in the central plateaus of the country, and in small landholdings throughout the country. These smaller farms average about 2.5 acres, about a third of the size of small tobacco producing farms in the United States.
Malawi has the capacity to produce over 100 million kilograms of tobacco. But the actual production quantities depend on the price of the preceding season.